Google Shopping has become a critical part of the marketing mix for eCommerce sites.
Conversion rates are typically higher than other Paid channels, and therefore deliver better ROIs as these kinds of campaigns target searches that are lower down the purchasing funnel.
Whilst Google Shopping campaigns can deliver excellent results for your business, the setup of these kinds of campaigns can be tricky to manage. It involves an intricate link between your eCommerce platform, Google Merchant Centre and then Google Adwords.
Sometimes websites have downtime, feeds fail to run or incorrect data is added which can cause products to be disapproved for Google Shopping advertising as a result.
Fortunately, there's a feature in the Merchant Centre that can answer the question – how do we know if my Google Shopping feed has failed, or how do I know if my products have been disapproved?
Why do you need to identify Merchant Centre feed issues right away?
How to get instant email notifications when Google Shopping products are disapproved?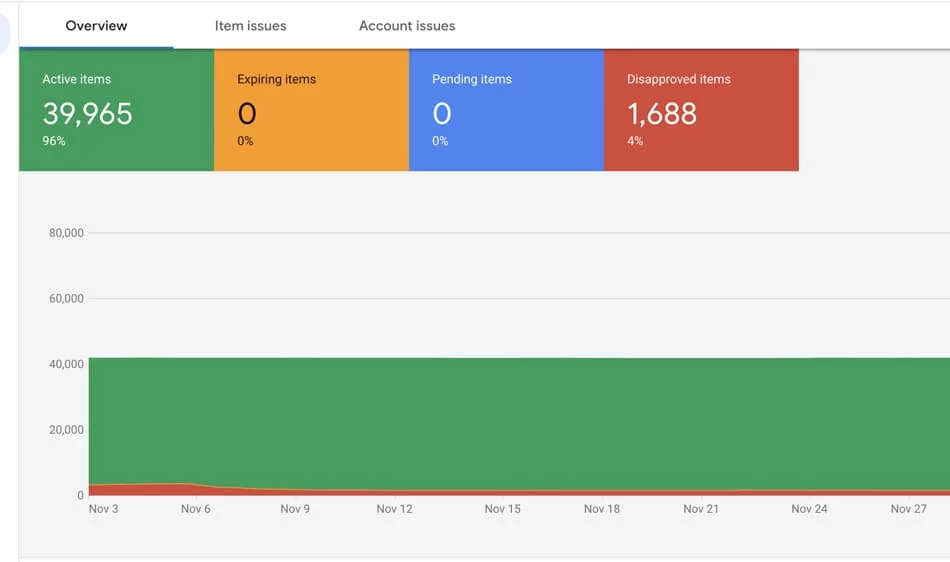 We've had many conversions with clients where their product feeds have silently failed and only a few days later when sales are down has the root cause of the merchant centre issues been discovered.
Shopping campaigns work through the product feeds generated either manually or automatically via your eCommerce platform.
Some of the reasons a shopping feed can go down include:
Website going down
Shopping feeds failing to run
Incorrect data being imported
Change in shipping rates
When your feed or products within it are disapproved, this ultimately leads to your Shopping ads deactivating until the issue is resolved. This downtime can have a devastating impact on a business.
Identifying these issues sooner rather than later is vital in order to reduce loss of sales as a result of your chosen products not being shown in your Shopping ads.
Daily checks of the merchant centre by your team is advised, but we know this is not always practical.
Google has a feature called "product protection" which is freely available. The product protection feature is triggered by a significant drop in the number of products on your shopping feed.
When this setting is turned on, you will receive instant email and account notifications when your active products fall below an account set percentage.
Google will not remove the products that were missing in your feed from your account when this setting is turned on and prevents any products from being accidentally removed.
How to adjust the product protection feature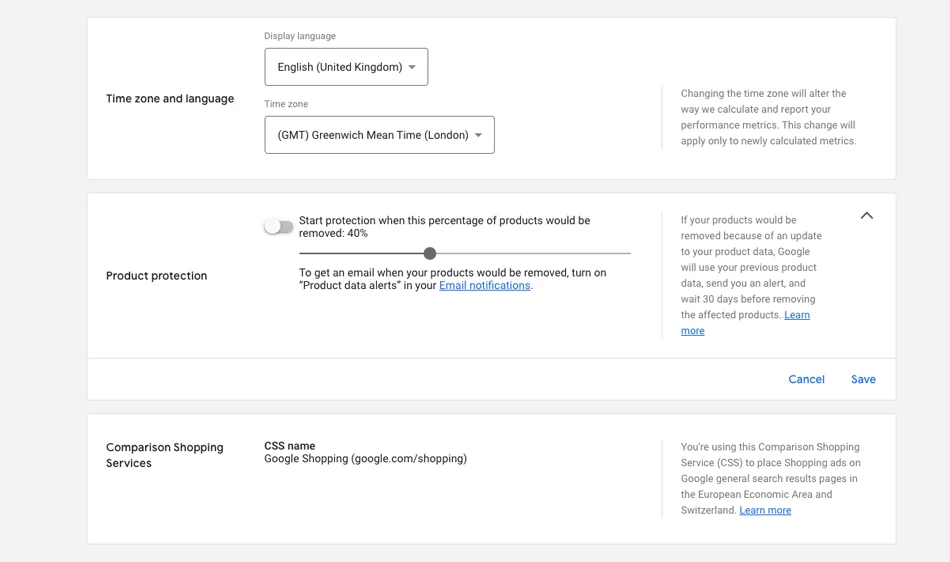 In order to adjust the percentage that will trigger the email notification, follow the steps below:
Sign in to your Merchant Center account.
Click on the tools icon.
Click Account Settings.
Click the Product protection menu and toggle 'Start protection when this percentage of products would be removed'.
Set the percentage drop threshold that will trigger the protection of your products.
Click Save.
Make sure you have email updates for feed notifications turned on in your merchant centre account. You will also need to ensure you have product data alerts turned on too. This will allow you to receive instant email notifications when your number of products drop below the percentage that you set.
And that's it!
If you are looking for assistance in finding out more about Google Shopping, then please get in touch with one of our eCommerce experts who will be able to answer any questions you may have.