Whether you're a Shopify or Shopfy plus user, changing manual collections to automatic is a query we get asked often - and the short answer is yes, but it does require some manual changes. Follow our guide below to successfully change your collection from manual to automatic, with some tips to preserve your SEO Google rankings.
Getting started with automatic Shopify Collections
To get started:
1. Open up your site admin area and in your left-hand navigation simply head to your 'All Products' page.
This will give you a list of your entire product catalogue, which you can then filter to the products you want to change to your automatic collection.
2. In the products options bar, select 'More filters', and open up the 'Collections' menu item.
Here you can search for the collection you want to change from manual to automatic.
3. Once you have that selected, hit 'Done' and you should now see all your products in the current manual collection.
Using Shopify Bulk Editing to your advantage
Shopify and Shopify Plus have a fantastic bulk editing tool you can take advantage of here.
4. Select all the products by using the checkbox at the top of the navigation. Once all have been selected, hit the 'More actions' dropdown and select the option 'Add tags'.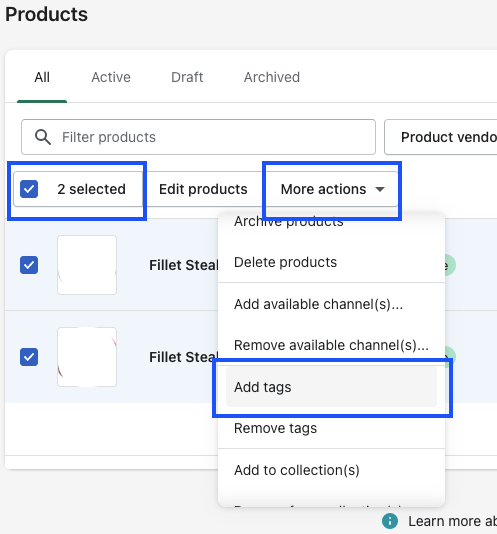 5. Here we can apply a tag to every single product in that collection.
For example, if you are creating a Summer dress collection you could use the tag 'Summer Dresses'. Once you have added and saved the tag, all these items in the manual collection should have the tag. We can now use this to create an automatic Shopify collection.
Setting up the Shopify automatic Collection
6. Head back to your collections using your left-hand navigation.
7. Create a new collection.
Here you can set the collection type to 'Automated'. You can then set the condition to 'Product tag is equal to' and insert the tag you applied to the products in the step prior.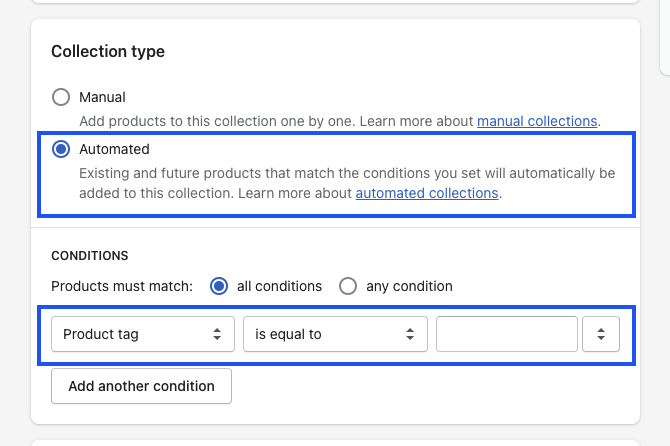 Once you have done this and saved, this automated Shopify collection should populate with the products from the manual collection that have been tagged.
8. You can then go ahead and safely delete the manual collection, leaving you with an automated collection set up and ready to go.
Preserving your SEO data
In regards to SEO, because it is a new collection, it may impact some of your SEO data. If you simply want to replicate the manual collection, it would be best to transfer any SEO data (e.g. meta titles, URL, descriptions) to the automated collection first before deleting the manual collection, which should help avoid losing any Google rankings.
If you need help with your Shopify store, get in contact with us today.