E-commerce is full of statistics - sessions, users, bounce rates, conversions and transactions to name just a few. One to keep a keen eye on though is the average order value, which as the name suggests is the average value of an order placed through a website. Increasing your AOV will mean increasing your turnover and in turn your profit.
There are several ways to go about improving your AOV, but one way you may already be familiar with, especially common in the world of B2B commerce, is volume discount. Different platforms may use different terminology to discuss these options, however you know them as quantity breaks, tiered pricing or volume discounts and these are a great way to show customers the benefits of buying more. 


What's the difference? Quantity Breaks, Tiered Pricing and Volume Discounts.
In short, volume discounts offer a customer a lower price per unit if they buy more units. This is especially useful, and largely considered standard practice, in wholesale, trade or B2B retail. 
Tiered Pricing is subtly different from volume discounts, in that as each tier is 'filled' by purchasing more units, the next lot of units is available at a cheaper price.
Quantity breaks are functionally the same as a volume discount, but is a term more often used when talking about buying more than one of a group of products, or a product and it's variants. 
With any of these methods, by clearly communicating to your customer that 50 pieces come at a better rate than 20 pieces, you provide incentive for the customer to up their order; it's in their interest after all.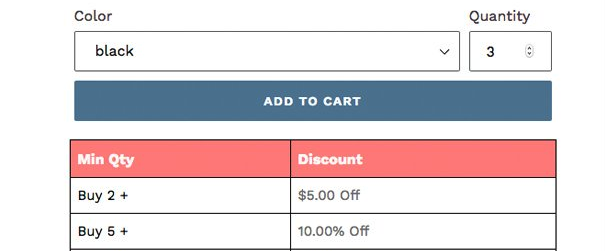 Tiered pricing solutions on the Shopify App Store
In its 'out of the box' state, Shopify only provides two kinds of prices, the normal non-discounted price, and a sale price. To enable quantity breaks, tiered pricing or volume discounts in Shopify you can visit the Shopify App Store, and choose an app that best fits your costs and needs. One such app is 'Volume & Tiered Discounts' by Hulkapps , or 'Discounts & Quantity Breaks' by Website on Demand. These are just two of a range available on the Shopify App Store for you to choose from.
Once you've made your choice and installed the app, and checked that  everything works ok with your chosen theme, you'll need to decide how and when to offer discounts. When setting up your quantity breaks, tiered pricing or volume discounts - it is common practice to start with a fixed percentage discount, or a fixed price based on volume.

Quantity discounts via the Shopify Plus Wholesale Channel
For users of Shopify Plus, the enterprise level platform from Shopify, this facility can be enabled natively, by turning on the WholeSale Channel. Documentation on this can be found here.
Tiered Pricing is just one of the tools in your arsenal for improving your AOV and for more advice on merchandising, upselling, replatforming or any other facet of eCommerce, speak with one of our eCommerce experts so we can help with your eCommerce venture.