Our clients come to us with all manner of ideas about how they would like to merchandise products on their websites. Since merchandising is often industry specific, it's important for us to find a way to help them execute on these ideas. But there are some core merchandising techniques that we've found work well across nearly all verticals. In this post, we explore three of them and give some examples of how we've helped clients to get the most out of them.
1. Cross-selling value-adding activities
Using custom options, we helped Webbs, a trusted local appliances retailer with an up and coming eCommerce store, to add custom add-ons to their products offering their customers different types of delivery/installation.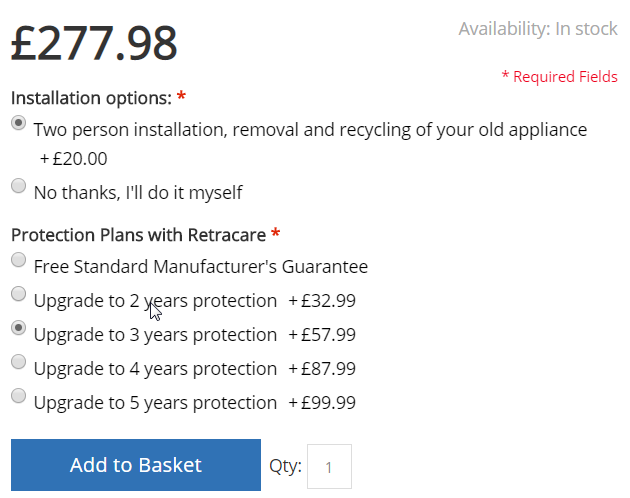 This enables Webbs to offer their excellent installation services at the moment of sale in an intuitive way for the customer. The custom options can be made into a template in the backend of Magento saving time for site admins on product launch.
Custom options can be applied to any number of products or scenarios regardless of your business. They provide a neat way of upselling relevant products to your customers and can help to drive up that key eCommerce metric, average order value.
2. Explaining filter meanings
We're all guilty of jargon from time to time, sometimes without even realising it. I recently sat through a meeting in which a client repeatedly referred to "Americans" as products. It took a while to realise he was referring to American style fridge freezers. I made a mental note to double check the category on his website was correctly labelled "American Fridges" so as not to confuse the uninitiated.
What this example goes to show is that category filters need to make sense to all kinds of users, including those at the top of the buying funnel who are unsure of what they want and what is available. Additionally, carefully explaining filters gives your users confidence in your authority as an expert in your field.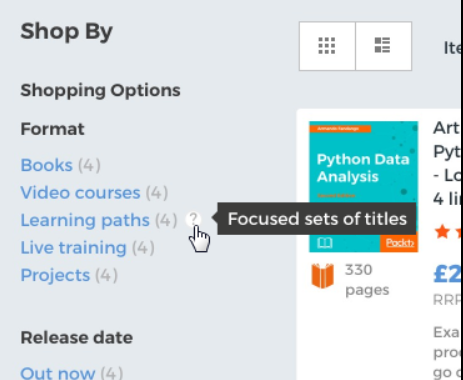 3. Dynamic labels on products
Product labels are fantastic way to differentiate products in a category, especially when those products are technically complex or visually similar. Helpfully, Magento offers the possibility to add dynamic labels to your products meaning your selected labels appear on your product images without actually being part of the image - meaning that if you use Google shopping, there are no violations of the image rules.
One use of labels proven to work is their use to differentiate products as "good, better, best" - a tried and tested merchandising technique employed so successfully by supermarkets and one which heavily influences buyer behaviour. Here's an example of that very technique put to effective use on a site that we designed last year: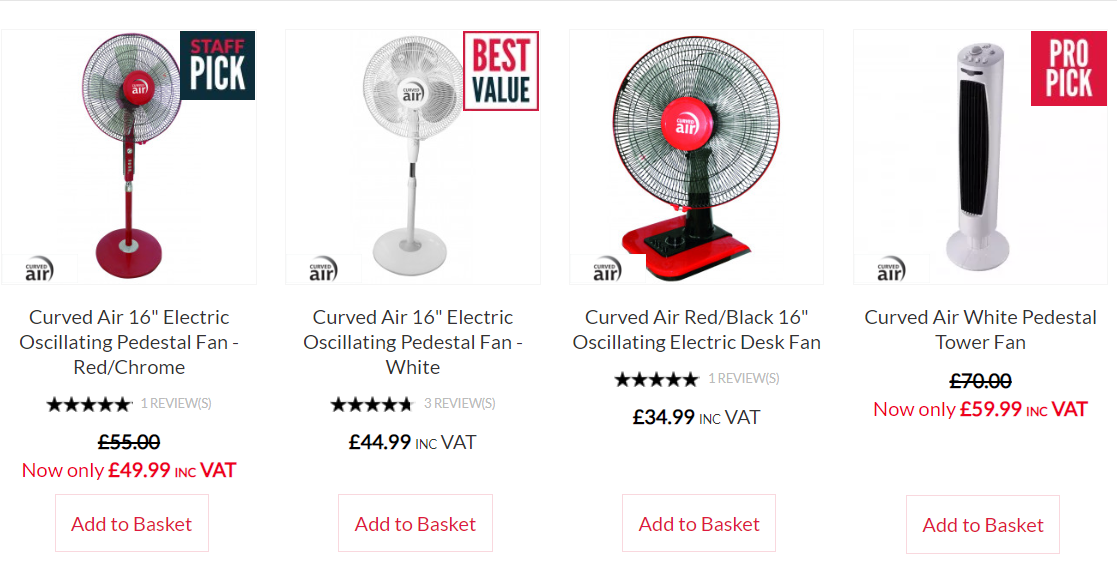 Another use of dynamic labelling (or badging, as it is sometimes called) is to call out specific product characteristics that form an important part of a customer's product selection such as highlighting specific products as vegetarian and making that as clear as possible for its target market, as demonstrated here in another of the sites we have built:

An effective merchandising encompasses opportunities on the category, product and even basket pages of an eCommerce site. It's about user journeys from research to purchase and beyond into firming up client acquisition. It's important for online retailers to understand these journeys in depth and the opportunities that arise from them. Why not have a chat to us about the potential merchandising possibilities your site has?
Share on linkedin
LinkedIn
Share on facebook
Facebook
Share on twitter
Twitter
Share on email
Email
Share on whatsapp
WhatsApp