Keywords are at the core of optimising your site's content and keyword research tools are essential for any eCommerce business.
In order to rank for the search phrases that are going to drive sales for your business, you need to be sure that you are building relevance around your products and establishing yourself as the go-to store in that particular industry.
Any eCommerce strategy is driven by enhancing user experience.
Keyword research is what builds the foundation of the content you create for your website in order to provide insight and value for your customers as well as providing improved search engine ranking.
magic42 offers digital marketing for our clients in addition to our development on Shopify, Magento and WooCommerce. We use a number of advanced tools to track keyword rankings and are always looking for new and innovative keyword research solutions.
Here's one we spotted that is simple to take advantage of…
Keywords Everywhere is a free tool that you can install in your browser and is available for Chrome, Edge and Firefox.
This handy tool enables you to view the related search terms when you enter any query into Google Search. So why is this useful?
The kinds of keywords you can uncover with this tool can lead to new opportunities for your eCommerce website. Whether it's landing pages, new potential products or blog inspiration, this research will help you understand what it is people are searching for and how you can help understand their needs and rank higher in search results.
To show you how it works, we will use "watering cans" as an example phrase to focus on.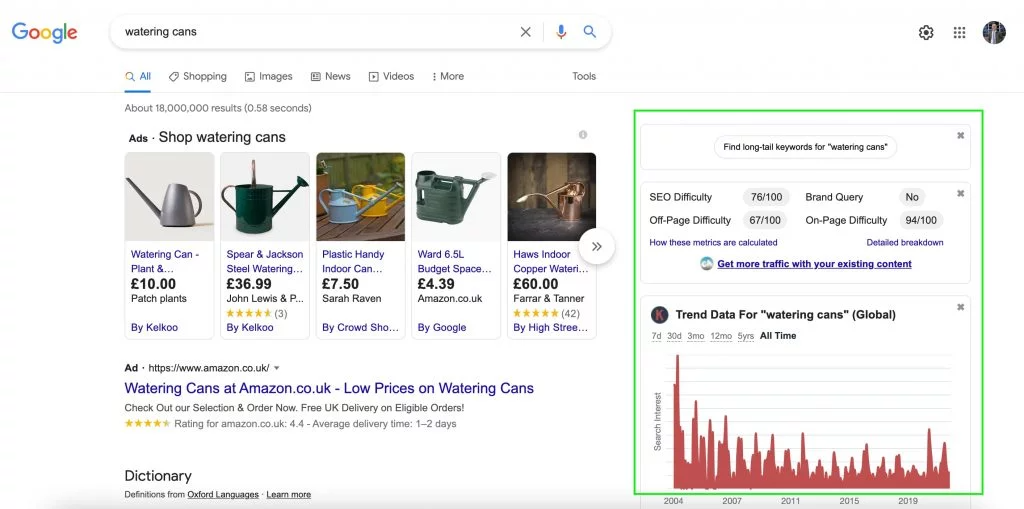 Once the search results are generated, you will notice the Keywords Everywhere extension has been activated as a new section appears on the right-hand side of the search results.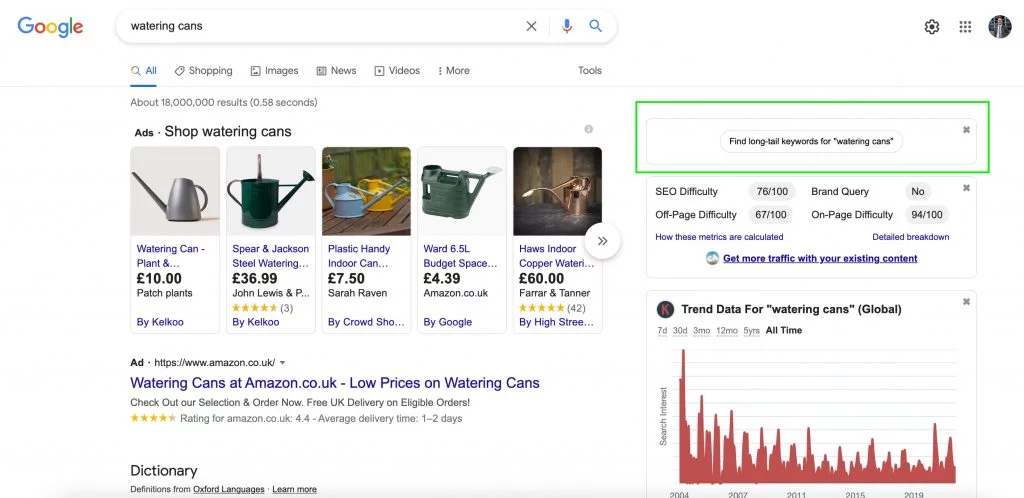 From this, you can discover your new keyword opportunities. Click "find long-tail keywords" and it will generate a list of keyword variations for your search query.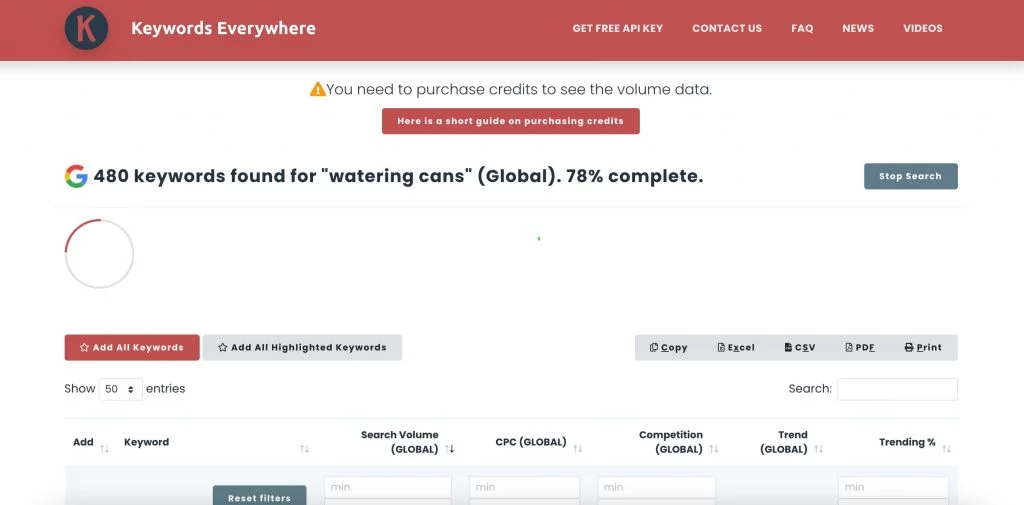 From this single phrase that we used to search in Google, it has returned with over 400 related keywords that we can now sift through to find new potential content opportunities to use on our website.
How can this tool be used within eCommerce?
This tool is a great way to get a surface-level look at the types of phrases that your potential customers are using to find products and services like yours.
Each customer may have different ways of researching and querying Google when searching for products or services. It is important to understand how they transition from looking for information on a particular product (by asking questions and carrying out research) to becoming a paying customer.
This tool will enable you to make informed decisions on the way your website is structured. It's a quick way to discover areas of your content that need updating. Some of which may include:
Updating product pages
Updating product names
Updating descriptions and meta titles
Creating categories to match the phrase intent
Creating supporting content, blogs, buying guides and videos
Ensuring that you are targeting the right kinds of phrases and matching the intent behind the phrase with the right kind of content is the formula to helping customers engage with your brand.
If someone is searching using a question, then chances are they are looking for a guide to read or a video resource in order to help them reach the answers they are looking for.
Keywords Everywhere is a great simple tool to use for keyword research and although it is primarily a free extension, there are additional features available that they do charge for. However, all of the benefits of this extension covered here are completely free.
If you're looking for help to boost your eCommerce keyword rankings, then please do not hesitate to get in touch with one of our eCommerce experts who will be more than happy to assist you.