Magento 2 was a worthy upgrade to Magento 1. Its out of the box functionality is impressive - not least because Magento's open-source philosophy ensures its continued availability free of charge. We've now helped a number of clients migrate their eCommerce sites to Magento 2 and have been asking them what makes them glad they made the change. We take a look at some of those key Magento 2 features here.
#1 Checkout
The third biggest cause of checkout abandonment in eCommerce, according to a Baymard Institute report this year, is the length and complexity of the checkout process. It's little wonder then that the native Magento 1 checkout became something of a bugbear for site owners. It was long and often painful with its 6-step accordion style format a seeming anachronism in today's world of single-click purchases.
Thankfully, Magento 2 addresses those problems with an elegant native checkout experience. Now shoppers can checkout as a guest by default, given the option though not obliged to log in if the email address is already registered. Sensibly, in Magento 2, the option to create an account is offered at the end of checkout once the the site has all the requisite details to complete the current transaction and therefore most of those required to create an account.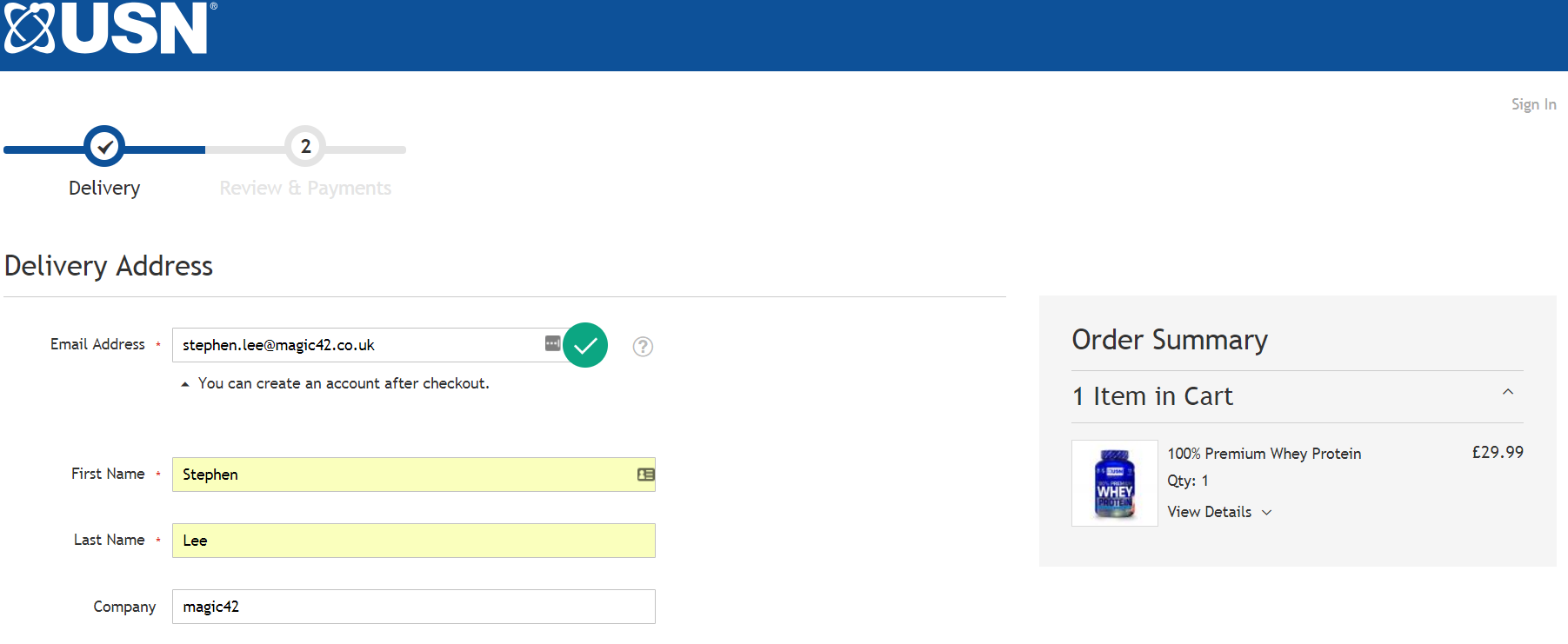 Magento has also addressed the length and complexity of the checkout by condensing the previous 6-step process into a streamlined 2-step flow capturing the necessities of shipping and payment. But there is much more to the Magento 2 checkout that makes it more powerful than ever. Some other key features are as follows:
Dynamic delivery costs - Customers are now informed of the delivery cost of their order at the earliest stage of checkout based on the parameters the merchant sets such as shipping destination, weight of goods or any shipping discounts applied based on purchase value. No more unexpected costs for the customer - the number 1 reason for checkout abandonment.
Order summary - Now a floating widget on the right sidebar replete with product images, customers can complete their purchase with confidence having seen the summary of their order throughout the process of checking out making for a more transparent buying experience and fostering customer confidence.

Payment methods - Magento 2 has many more available as standard increasing customer choice and reducing the need for merchants to find extensions to handle their payment preferences. More of that later.
The checkout is enclosed so there are no distractions such as the site menu bar
Inline validation - Th format of the data entered is checked as it is entered and validation errors are highlighted per line rather than upon submission of the details at the end of the process
#2 Swatches
Magento 2 gives merchants the power to create configurable products with variable attributes. A good example of how this functionality might be used is to have a single product page that hosts all the variations of a product such as colour and size. This way, a clothing retailer could create a single product page where, from the customer's point of view, their purchase can be customised to their taste and need. The Magento backend will associate their choices with the specific corresponding SKU.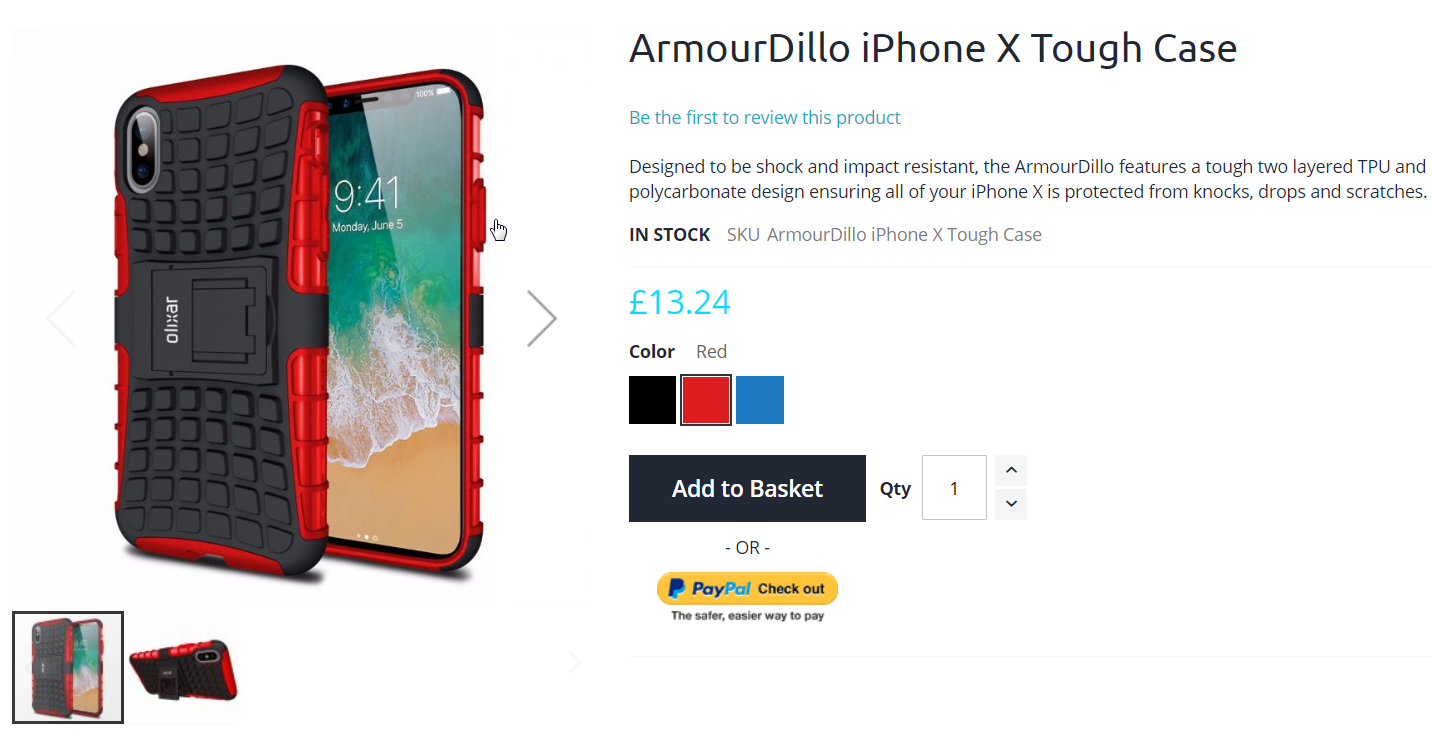 The swatch feature circumvents the need for all colour variations to be listed in unfiltered category views on the frontend of a Magento site but allows, indeed encourages, the customers to browse close variations of products they have already shown an interest in. The swatches even respond dynamically to inform site visitors when certain product variations are out of stock. All this makes for a smoother shopping experience, something noted by Mike Hart, Marketing Lead at mobile accessories brand, Olixar:
We've found the swatch feature to be a real hit with our customers, providing them with a streamlined category experience and an intuitive browsing journey once they find a style of case that they like. Colour swatches have reduced bounce rates on our categories by over just 15%, while allowing greater visibility of our entire range.
#3 Amazon Pay
As of Magento 2.2.4, Amazon Pay is now available as standard in Magento. We mentioned before in the checkout section above that the number of payment methods had increased with the advent of Magento 2. However, the integration of Amazon Pay is the real gamechanger.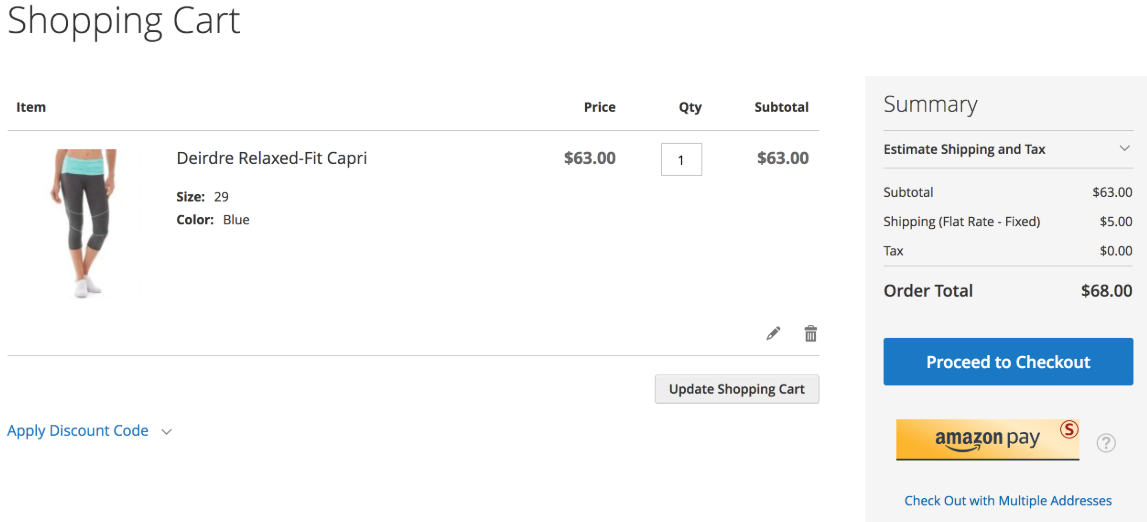 Simply put, anyone with an Amazon account (i.e. the demographic most likely to be shopping online anywhere) can now checkout using their Amazon account. The payment processing is handled by Amazon so merchants will not be required to take payment details. Your customers can simply check out on your site with the ease that they would on Amazon. While many merchants worry that Amazon is taking too great a market share, Magento as a company do not see Amazon as an obstacle to retail success for eCommerce firms. As can be gleaned from this interview with CEO Mark Lavelle last year, Magento views Amazon very much as a resource. The native integration of Amazon Pay into Magento 2 lends further weight to this reassuringly optimistic stance and is good news for Magento site owners all round.
#4 Backend Interface
From a merchant's perspective, things got a whole lot easier with Magento 2's new backend interface. The cleaner Content Management System makes it easier to create content, add configurable products as touched on before, and see snapshots of sales performance directly in the dashboard. Over at Olixar, Product Manager Scott Glover has this to say:
Upgrading to Magento 2 made navigating the back end of the site a far more simple process thanks to it's massively improved UI. This has made managing products, integrating extensions and the overall management of our eCommerce platform that bit more efficient. Magento 2 has also helped us to create a better UX thanks to the ability to easily launch new designs on the site. This has been a prime factor in driving new business and increasing conversion rates.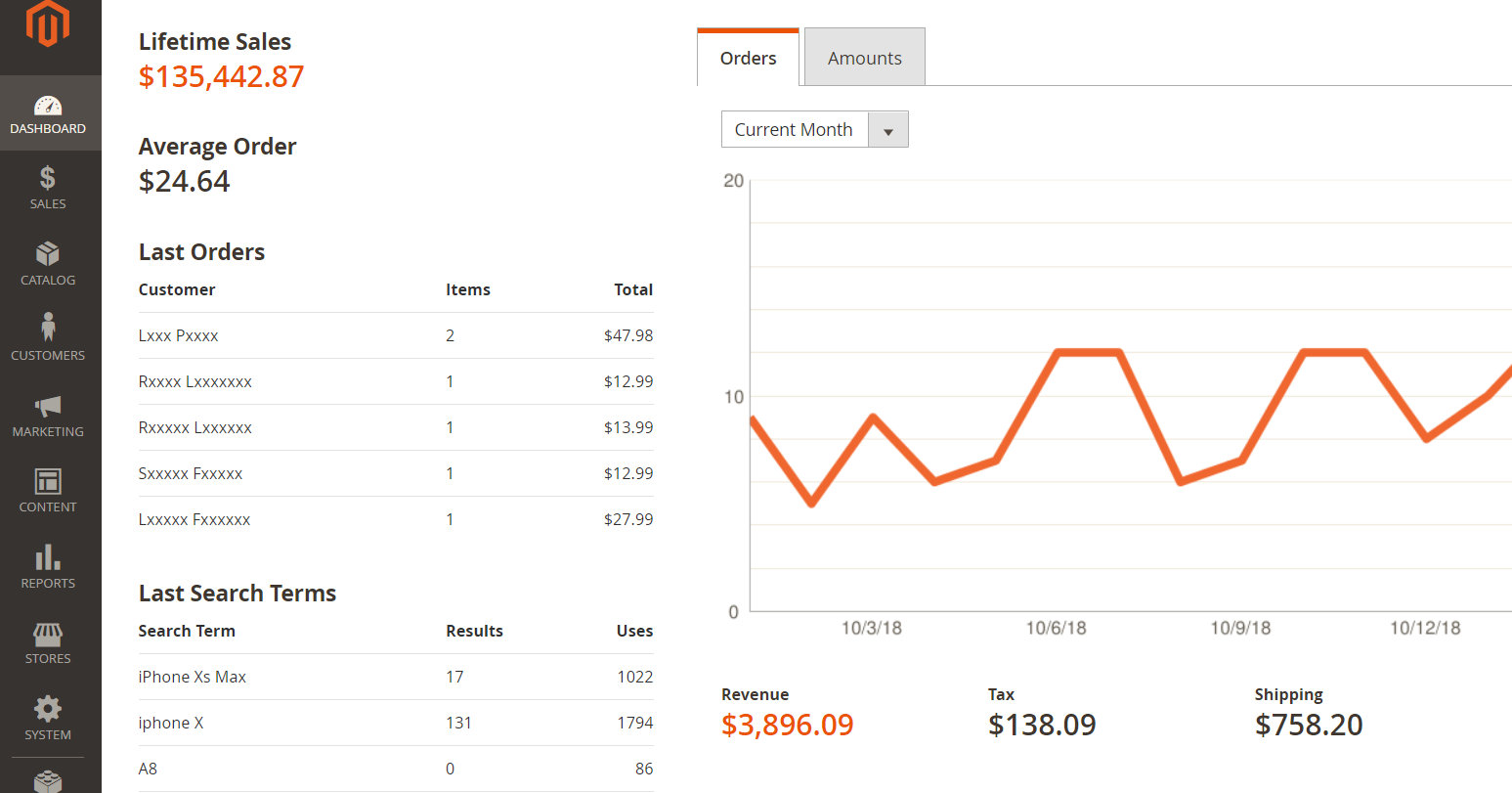 #5 Promotion Engine
Whether the tactic is to reward loyalty, offer bulk discounts for large orders or to apply a unique understanding of customer shopping patterns to drop prices on specific products for limited times, Magento 2 has merchants covered. The native Magento 2 promotions feature provides unprecedented control over your onsite marketing.
Essentially, Magento 2 offers two distinct types of promotion, each designed to equip merchants with the tools needed to push up Average Order Value and increase revenue by maximising each and every site visitors' buying intent.
The two types of promotions in Magento 2 are created using either "Catalogue Price Rules" or "Cart Price Rules".
Catalogue Price Rules can be used create promotions based on certain conditions. One example of such a condition is a fixed-time sale but more complex catalogue rules are available such as the ability to offer discounts to specific customer groups.
Cart Price Rules are used to apply discounts in the shopping basket based on certain conditions. As such, they can take into account all sorts of variables such as the unique combination of items in the basket and quantity of each product permitting merchants to offer promotions like "buy one, get one free", "half price x with every purchase of y" or "free shipping with orders over £20.
Summary
Feedback on Magento 2 from our clients is overwhelmingly positive. Much of that positivity centres around the improved usability for both site admins and site visitors. We at magic42 wholeheartedly agree and believe that Magento 2 rightly deserves its place as the world's leading eCommerce platform.
Our Services
Magento 2 Development
Magento 1 - 2 Migration
Magento B2B eCommerce