Magento has been given the title of Leader for the 3rd consecutive year in the 2019 Magic Quadrant for Digital Commerce – the annual report from Gartner. It was evaluated alongside 13 other vendors including Salesforce Commerce Cloud, SAP, BigCommerce and Shopify Plus. According to Gartner, a Leader is classified as a vendor which "often set[s] the competitive benchmark against which other vendors compare themselves".
What's In The Report?
Gartner looks at the eCommerce market and its approach to "delivering on the future needs of sellers and their customers". The report acknowledges the need for platforms to meet increasing complexity in "product offerings and functionality, technology delivery, and pricing models".
It also highlighted predictions in growth in the following areas:
Subscription eCommerce services which would theoretically increase loyalty
Voice-enabled commerce, e.g. using Alexa to initiate a transaction
AI to drive customer satisfaction, revenue or cost reduction
As well as providing an overview of the eCommerce market, the Magic Quadrant for Digital Commerce highlights several eCommerce platforms and considers their particular strengths.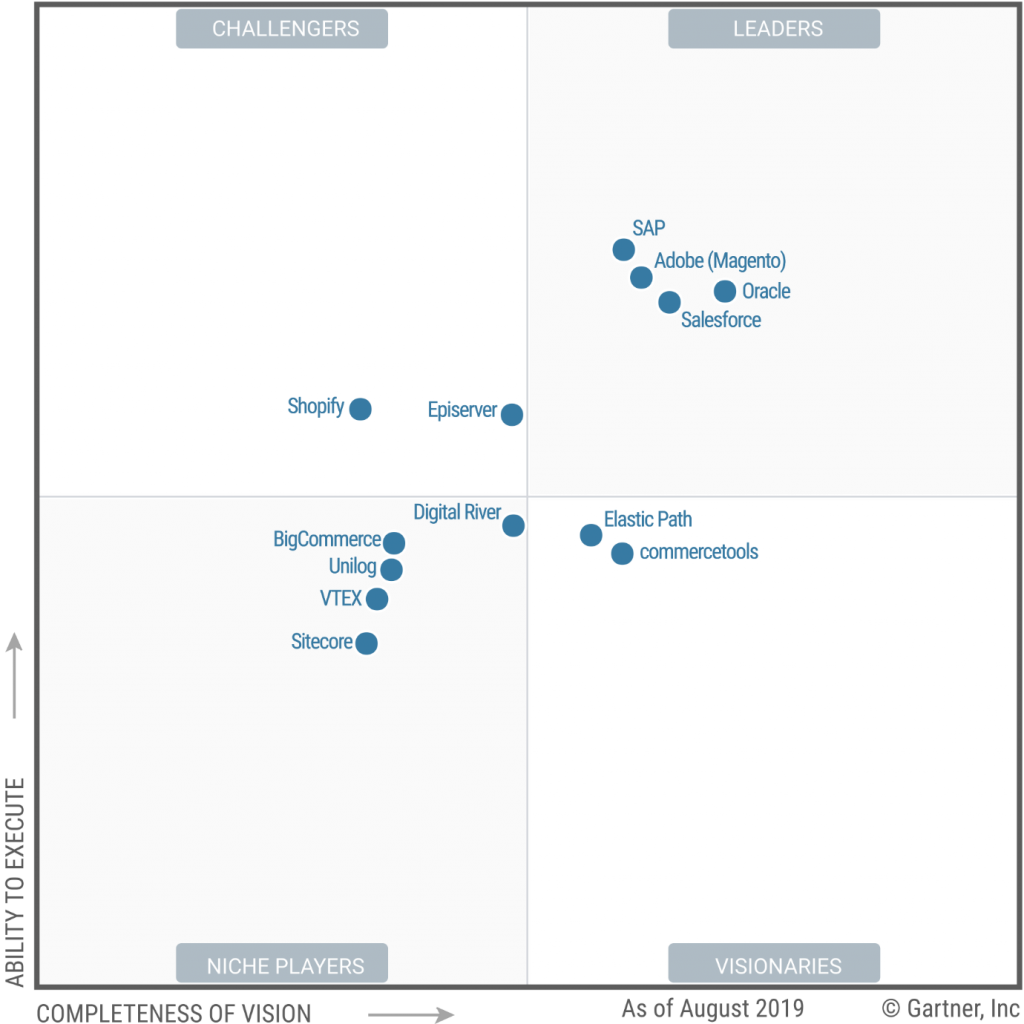 Magento Is The Right Choice
The report recognises Magento for its "rich features, an unrivalled ability to customize, and seamless third-party integrations." Some of Magento's strengths include:
Offering a complete eCommerce solution – especially when considering the Enterprise (now Commerce) licenses which expand on the already great Open Source Offering
A robust application and partner ecosystem which extends the core product
Following Adobe's acquisition of Magento in June 2018, businesses "have access to a more comprehensive suite through direct integrations with Adobe solutions for marketing and analytics"
Magento also has a whole host of other strengths that we can tell you about. If you're interested in finding out why we back Magento as the platform to offer a differentiated eCommerce experience for your customers, please get in touch.
Related services
Iterative eCommerce Growth
Magento integrations
International eCommerce