Reviews and testimonials are of paramount importance when it comes to convincing potential customers that buying from you is right for them. In this sense, eCommerce is no different to traditional bricks and mortar retail. But the nature of online shopping, where customers lack the personal attention they might find in the more traditional setting, customer reviews are more important still in terms of building confidence in your brand and store.
The web is littered with testimonials to how using independent review services have helped businesses increase sales. It's logical. We all know from experience how important impartial reviews are when we are about to make a purchase - especially as new customers. eCommerce sites with poor reviews just don't attract new business. But the collection of customer reviews is more than just a means of providing testimonials. It gives businesses an opportunity to gain valuable feedback and react by approving their service offering.
Customer Review Solutions
There are a number of third party review collectors in the ecommerce space with the best known probably being Trustpilot, with Feefo and Reevoo not far behind. These companies offer review collection solutions to businesses for a fee, which has tended to creep up year on year as each consolidates its market share and moves beyond the land-grab phase.
That's one reason Trustpilot, Feefo and Reevoo may not be right for your business. But even if they are, it pays to spread the risk of exposure by nurturing alternatives or additional means of collecting reviews and ratings. One such alternative is Google Reviews.

Google offers "Customer Reviews", a solution that encourages customers to leave reviews about their shopping experience. The average star rating from the reviews are displayed as part of any Google Search ads or Google Shopping listings run by online retailers, helping to increase click-through rates and instilling confidence in prospective purchasers.
So how do Google Customer Review work?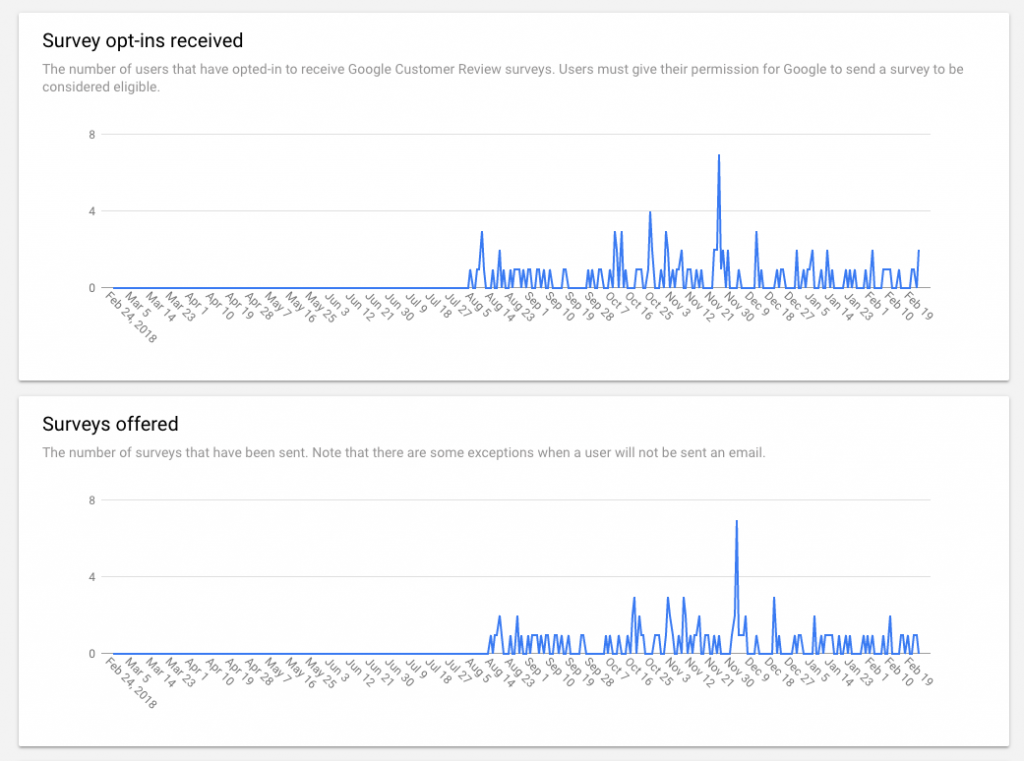 Once having bought something on a site they are offered the option of opting-in to receive an email from google asking for feedback on their experience buying from the site. If they choose to do so, they might receive an email once their order has arrived. The collected ratings are then shown on your Google Customer Reviews badge if you choose to display it as well as appearing on your Merchant Center dashboard.
The principal features of the Google Customer Reviews programme are:
Opt-in:
The offer shown to all customers at the end of checkout.
Google Customer Reviews badge:
A badge on your site helping users identify your brand with that of Google. It displays your score (1–5 stars) and can be displayed on any page on your site.
Google Customer Reviews survey:
A short, optional questionnaire requesting that customers rate their buying experiences on your site.
Seller ratings:
A cumulative score which appears on Search ads and Shopping ads, as well as on your Google Customer Reviews badge.

It is worth noting that the Google Customer Reviews badge requires certain conditions to apply in order to show. Firstly, sellers need to have an average rating of 3.5 stars out of 5. If a seller's reviews do not meet this threshold, the badge will simply not appear - not necessarily a bad thing. Moreover, the badge currently only shows on desktop browsers so mobile users will not see it while on your page. However, seller ratings will show in search and shopping ads on all browsers and devices.
You can view detailed Google Customer Review information using a search string. The below link is for the Google Reviews of one of our clients Mobile Fun:
https://www.google.com/shopping/ratings/account/lookup?q=mobilefun.co.uk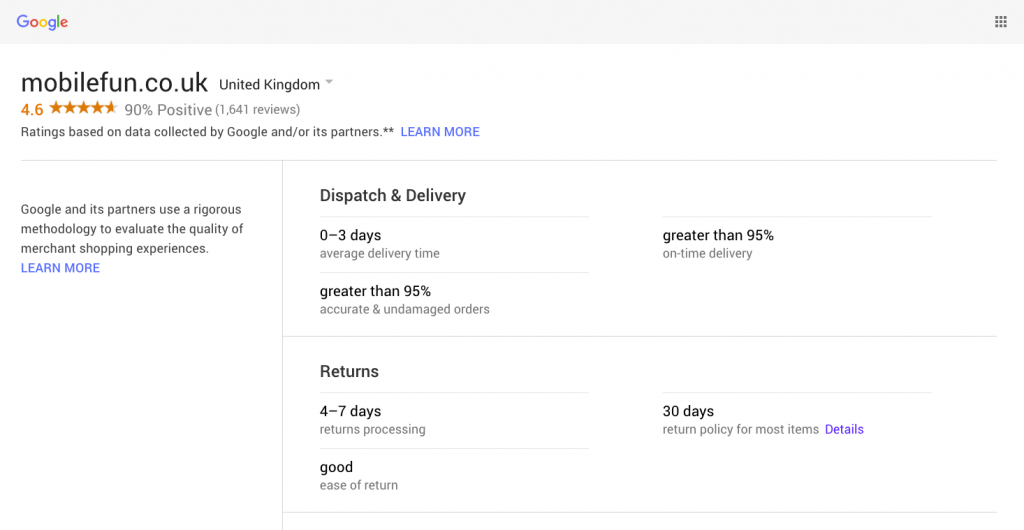 If you want to see the reviews page for another seller, just copy the text in the above link and replace "mobilefun.co.uk" with the url of the business you wish to check.
What next?
To set up Google Customer Reviews for your Magento store, some datalayer work is required to pull through information about expected delivery and dispatch time.
If you're interested in setting google Customer Reviews up on your site, get in touch with us. The only costs are the Magento development time required for set up as, unlike the 3rd party review solutions mentioned previously, there are no ongoing costs, which makes Google Customer Reviews a sensible choice for many SMEs.
As well as setup, magic42 can help with advice on on best practice for collecting feedback, applying it to improve customer experience, and ultimately increasing customer conversion rates.
Related services
Iterative eCommerce Growth
Magento integrations
International eCommerce